I spent last week traveling western Pennsylvania to visit five local fairs.
I started with the youth livestock show at one of the state's smaller fairs and ended with the youth livestock sale at the one of the state's biggest fairs.
My trip took me through the mountains of southwestern Pennsylvania, through tiny towns and big woods, to the northwestern plateau.
I saw cows and steers, goats and sheep, horses and rabbits, and many, many pigs.
But most of all, I met 4-H and FFA members who are enthusiastic about agriculture and who are developing into leaders and successful adults.
I met a young boy who discoursed on sampling soils and avoiding compaction when reseeding hay fields. An 11-year-old girl told me about her business strategy for raising hogs. College students competed in and judged shows.
I also got a much-sought close-up look at western Pennsylvania. Most of the counties on the tour I had previously only passed through on the interstate, and I had not visited any of these fairs before.
At Lancaster Farming, where we aspire to cover the whole Mid-Atlantic, we talk often about the challenge of reporting on places we have never been.
Many of the roads I took were narrow, winding and steep, with signs of agriculture and human habitation hidden behind the green eminences of the Alleghenies.
This was largely blue-collar country. Dealerships for construction equipment seemed to be everywhere. A billboard in Beaver County solicited brine waste from the region's natural gas drilling industry.
I pitched the road trip to my editor earlier this summer in part to justify covering the Crawford County Fair.
It's billed as one of the largest agricultural venues east of the Mississippi, making it newsworthy for our readers, but it's also a six-hour drive from Lancaster.
After much analyzing of schedules, I decided to visit the Williamsburg Community Farm Show, Somerset County Fair, Westmoreland Fair and Hookstown Fair in addition to Crawford County.
I would have to be efficient, so my strategy was to spend two hours and get three interviews at each fair.
But when I got to the fairs, I always wanted to stay longer. Even when I knew I had my story. Even when I was tired and hungry.
The tour was a reminder that, while national issues are important, much that's good and meaningful happens locally.
And while county fairs have a lot of commonalities, each one is a little different. And they all are important to their communities.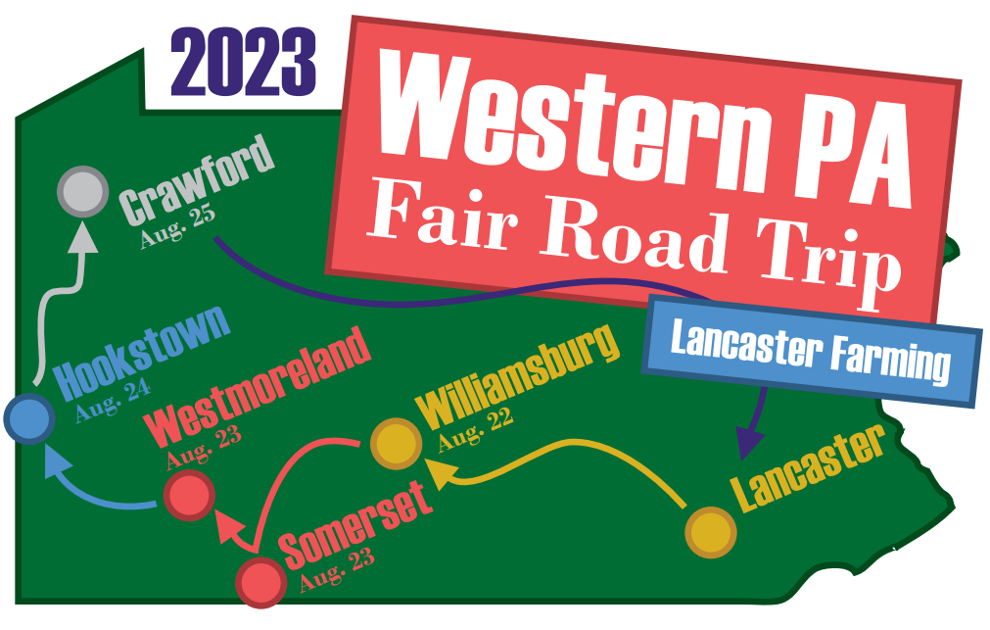 Tuesday
I set out on Tuesday morning, Aug. 22. My first stop was our company's printing operation in Lancaster, where several of us from the staff were meeting with the state FFA officers. They would be the first of many FFA members I would encounter during the tour.
As I prepared to leave, colleague Eric Hurlock texted me best wishes. In 2021, Eric took his family on the National Hemp Tour.
That weekslong tour — which will remain the archetypal Lancaster Farming reporting road trip for all time — covered the rebirth of the hemp industry from coast to coast.
My trip was more modest. I drove alone and stayed within Pennsylvania, though I still logged 878 miles in five days.
Fortified with a doughnut and chocolate milk, I excused myself from the FFA meeting around 10:30 and hit the road.
I followed Route 322, a road I've taken often, as far as Lewistown. But at the turnoff for Route 522, I entered unfamiliar country.
The highway eventually led to a smaller road that went over Williamsburg Mountain and eventually led to the town of the same name.
Of the more than 20 fairgrounds I've visited in my time with Lancaster Farming, Williamsburg is probably the smallest. It's nestled between some houses, woods, a ball field and a sewage treatment plant.
But the event had everything you'd want from a fair — livestock, tractors old and new, food stands and carnival rides. Williamsburg also had the best collection of antiques and traditional farm tools that I recall seeing at a fair.
Having secured the material for my first story, I headed for my hotel in Altoona.
On the way, I picked up a radio station advertising jobs at the Pilgrim's plant in Moorefield, West Virginia, 100 miles away. Extra buck per hour for evening shift, apparently.
To make full use of my per diem for meals, I was contemplating having steak that night. But after a long day and with a story still to write, I just walked to Five Guys.
Milk served to FFA officers: whole chocolate milk
Unusually named private lane I passed: Puppy Wood Lane, near Canoe Creek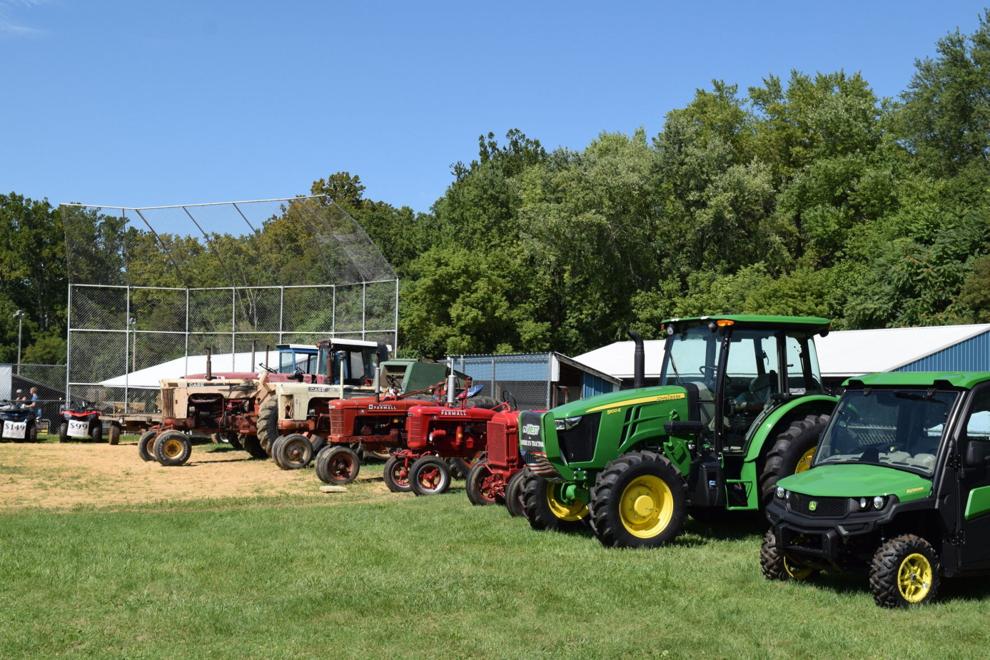 Wednesday
The second day of the road trip was the biggest — the only day I planned to visit two fairs.
My first stop was the Somerset County Fair, which is only a few miles from the Maryland line, making it an hour and a half from Altoona.
I had expected to take the all-highway route through Johnstown. But the GPS sent me on a two-lane route through Brothersvalley.
This change was annoying at first — I hit a long construction delay shortly after leaving I-99 — but Berlin and the surrounding countryside proved interesting.
After driving so many miles and barely seeing a farm, I had ventured into a teeming ag area.
Brothersvalley was the biggest collection of fields I saw until I reached the Volant area, near the intersection of interstates 79 and 80, late the following day.
Both Berlin and Volant, it's worth noting, have sizable Anabaptist populations. If there's a place in this state with good farmland, you'll probably find the Pennsylvania Dutch there.
Another Pennsylvania verity — you can't do a tour of the state's fairs without hitting a dairy show. The Somerset County Fair was working through the Holstein show when I arrived, and I made my way straight there.
It was only 9:30 when I arrived, and the rest of the fair was mostly closed up. By the time I left, shortly before lunchtime, food vendors were opening and the number of visitors seemed to be growing.
I stopped for lunch at an observation tower in Laurel Hill State Park. I had expansive views of forests and some farmland — plus a nice breeze and shade.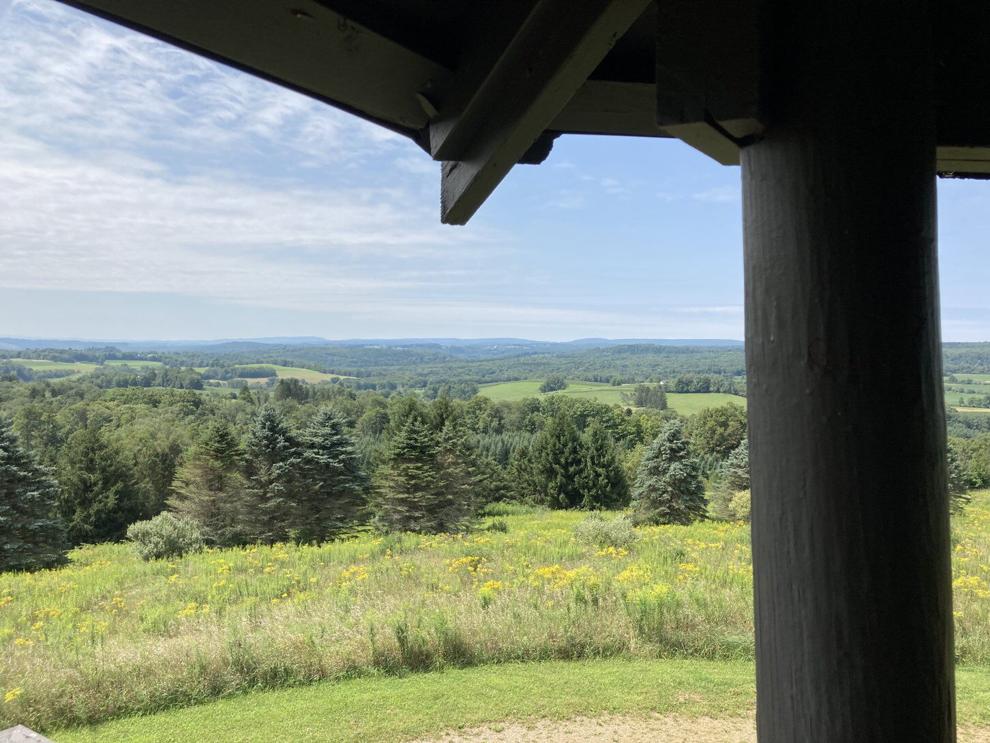 After some of the most rural miles of my trip, I rounded a bend and came upon the Westmoreland Fair. The fair itself perches on a hilltop, with the slope below used for parking. It made for a dramatic view.
The sky had grown overcast and threatening. It was early afternoon, and the food vendors were busy. I squeezed by them — I almost never buy fair food, probably because I'm cheap — and walked around a bit.
A large crowd had gathered for bingo in a pavilion. Chicken photos adorned the section of the barn where live poultry would be kept in times when avian influenza is less of a threat.
Nearby were the rabbit pens, where the largest specimens looked capable of beating up a terrier.
I made my way to the general store building. I wasn't here for livestock. To give some idea of the diversity of fair events, I had chosen Westmoreland's 4-H public speaking contest.
Having judged FFA speaking contests, I expected to hear high schoolers orating on the virtues of milk or the follies of cell-culture meat. Instead, most of the competitors were elementary students giving demonstrations of handicraft and pet care.
I was impressed with the skills these 4-H'ers had picked up at such a young age.
By the time I got back to my car around 5, rain was spitting, and I was worn out. Steak was sounding pretty good — after all, I was on a per diem — but first I had to get to the hotel.
Having spent much of the day in the bucolic Laurel Highlands, I now drove into the Monongahela Valley. At storm-shadowed rush hour, the area seemed grubby and industrial.
The lodging, which I take full responsibility for choosing, was also disappointing, partly because I arrived in my hunger-fried state.
The desk attendant disappeared immediately after handing me my key, and the room's lamps were so sloppily assembled that they barely stayed upright. When I couldn't get the TV to work, I feel asleep at 9 p.m.
But did I have steak that night? Yes. Yes, I did.
Highest milkfat content at hotel breakfast: 2%
Unusually named private lane: Dead Goose Lane (I think that's what it said), near Berlin
Thursday
I woke up feeling much better, and I set to writing my stories from the day before. After checking out of the hotel, I finished my work at a library I had noticed the day before.
In the daylight the Mon Valley seemed a little less glum, though it still wasn't my idea of paradise. In the early afternoon I put it behind me as I turned my sights on an evening swine event in Beaver County.
After subverting the GPS' intention of routing me through the congested heart of Pittsburgh, I stopped at Raccoon Creek State Park to pass the time before the show.
I found myself at the park's wildflower preserve. I assumed this would be some sort of meadow with maidens wafting around in diaphanous gowns. It was just a forest with a lot of undergrowth that must flower at some time other than August.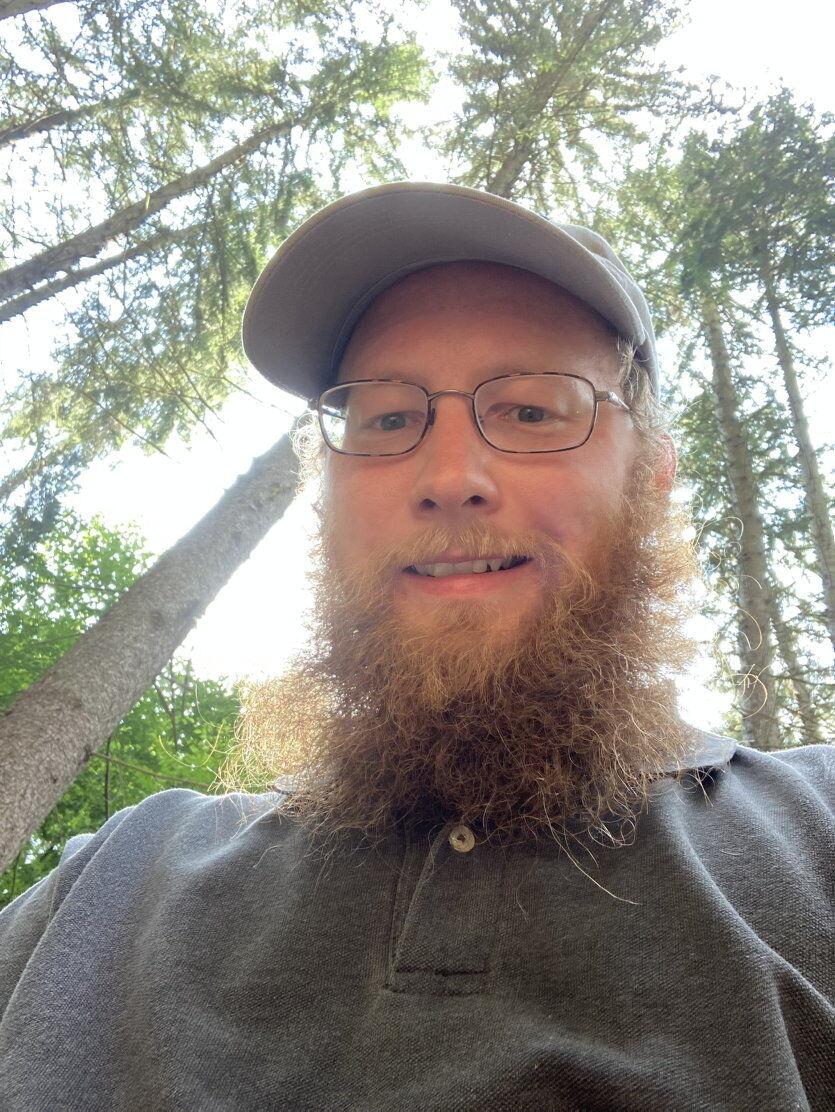 I took only a short walk, stopping where the flowerless plants and the smartweed had grown up close to the trail. As a Pennsylvanian, I have a healthy horror of ticks.
Also, the air was humid after the previous night's rain, and I didn't want to be drenched in sweat by the time I got to the fair. I spent the last 20 minutes or so relaxing at a picnic table.
The recent rain also meant that when I arrived at the Hookstown Fair, I saw what I dreaded most — mud.
All of the fairs I visited relied on grass parking areas, and Hookstown's were showing the effects of the rain and traffic. I managed to find a dry place to park, though I saw a pickup spin its wheels as I was leaving.
The fair's swine showmanship competition was detached from the regular swine show, so the event conveniently only took half an hour.
After that, I visited the conservation district booth to get some sense of the local environmental challenges.
Ag runoff is a concern everywhere farms exist in the state, it appears. But Beaver County is in the Ohio River watershed, so the funding opportunities are different from those in the Chesapeake basin.
The conservation district guy noted that I hadn't asked about East Palestine. The Norfolk Southern train derailment, which attracted so much national coverage earlier this year, was just across the border in Ohio.
Covering that situation hadn't fit in my plans for the tour, though it appears that little town can't catch a break.
The next morning I saw that East Palestine, like many school districts in eastern Ohio, had canceled school because strong storms had caused power outages.
I lingered a while at Hookstown photographing barrel racing, and I walked through the well-maintained collection of historical buildings at the fairgrounds. Then I turned northward, toward Grove City.
Along the way I passed the towers of the Beaver Valley Power Station, one of the state's few nuclear plants.
As the sun sank low, much of the chatter on the radio was about the previous night's Republican presidential debate.
The radio commentators, who make their living on prattle and zingers, seemed quite taken with Vivek Ramaswamy, a rich young guy whose chief appeal seems to be his facility with zingers.
The newspaper columnists I read later seemed more pleased with Nikki Haley, the former South Carolina governor who apparently gave more substantive and grounded remarks on governance.
Though I often cover politics, the whole business made me glad to be spending my week writing mainly about 4-H'ers.
Highest milkfat content at hotel breakfast: skim
Unusually named private lane: Busted Iron Lane, near Volant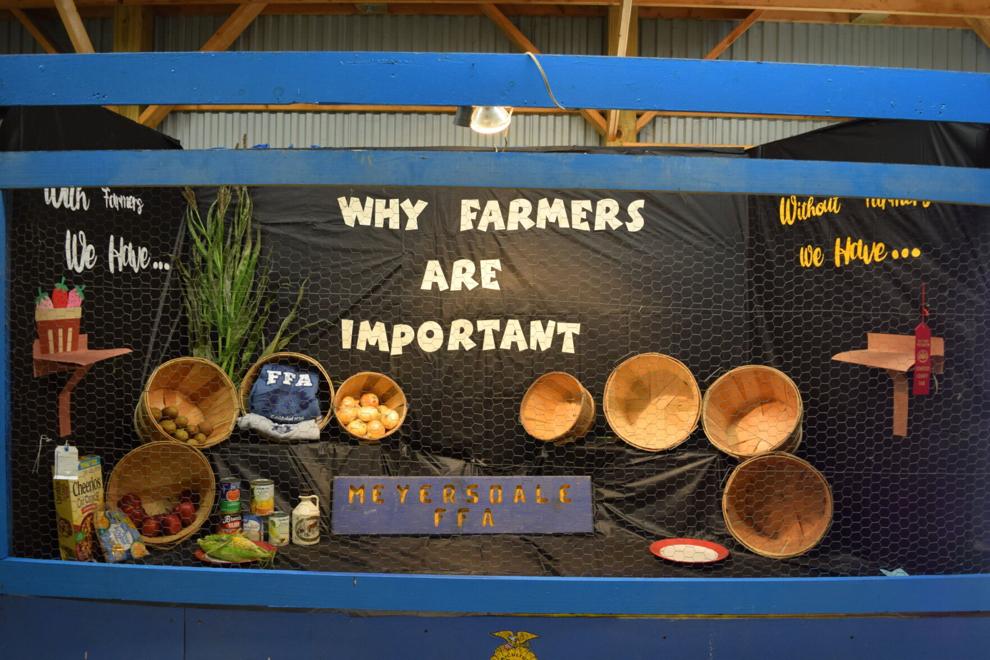 Friday
To this point in the trip I had been seeing places for the first time.
From Grove City on, though, I was in familiar country. I went to college in town and did my internships in northwestern Pennsylvania. I had even stayed at the hotel before.
After checkout time, I drove a quick loop around the perimeter of my alma mater. The campus was all set with signage to direct families for move-in weekend.
I joined our weekly staff meeting from a pavilion in the community park, where I watched a disc golf bro accidentally launch his disc right into the middle of a small wetland. He fished it out and made a strong throw uphill to get back on track.
After lunch I headed to Woodcock Lake. I passed this lake every day commuting to my internship in 2010, and it became a sort of touchstone to me.
As I walked the top of the mile-long dam, with a vast plain of water on my left and a long, flat plain of grass on my right, I lapsed into reverie on the big questions of life that I had considered as a college student, and on how my life had changed since then.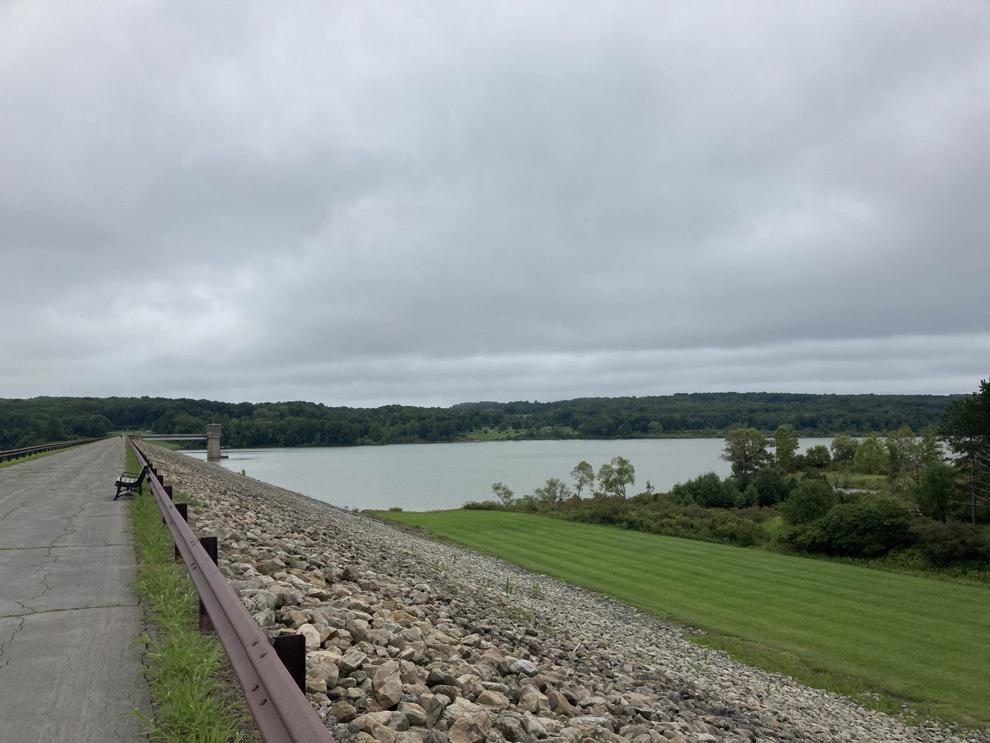 Mist began falling as I got back to the lot, and I slowly returned from my reflections.
It was a bit early, but I decided to head over to the Crawford County Fairgrounds, which turned out to be nearby.
The timing worked in my favor. Show organizers pointed out that most of the youths were sitting at their pens so they could talk to prospective buyers — or to me.
After I was connected with the owner of the reserve champion hog, a girl asked me if I wanted to talk to the grand champion. She took me to her sister.
When I finished that interview, a mom approached me and had me interview her daughter. I was done with my interviews in record time.
I also met Sherman Allen, the auctioneer who, when I was planning my trip, had assured me of a warm welcome at the fair.
He was described to me as a big, jolly man with an orange shirt. I instantly knew who he was when I saw him.
As he introduced me around, his description of my planned coverage grew from a mere story to a full page to a two-page spread. He also set me on to the 4-H clubs' pork sandwich, one of the best I've had.
I quickly had what I needed from the fair itself, and unwilling to brave the vastness of the food and carnival area, I made my way back toward the entrance.
I lingered to photograph the State Police mounted color guard, which entrapped me in my second hearing of the national anthem in an hour.
The troopers then gamely agreed to try the barrel race — while a group of pink-shirted 4-H girls waited to best them.
Highest milkfat content at hotel breakfast: unmarked pitcher
Unusually named private lane: I was sure I saw one in Saegertown, but I didn't write it down.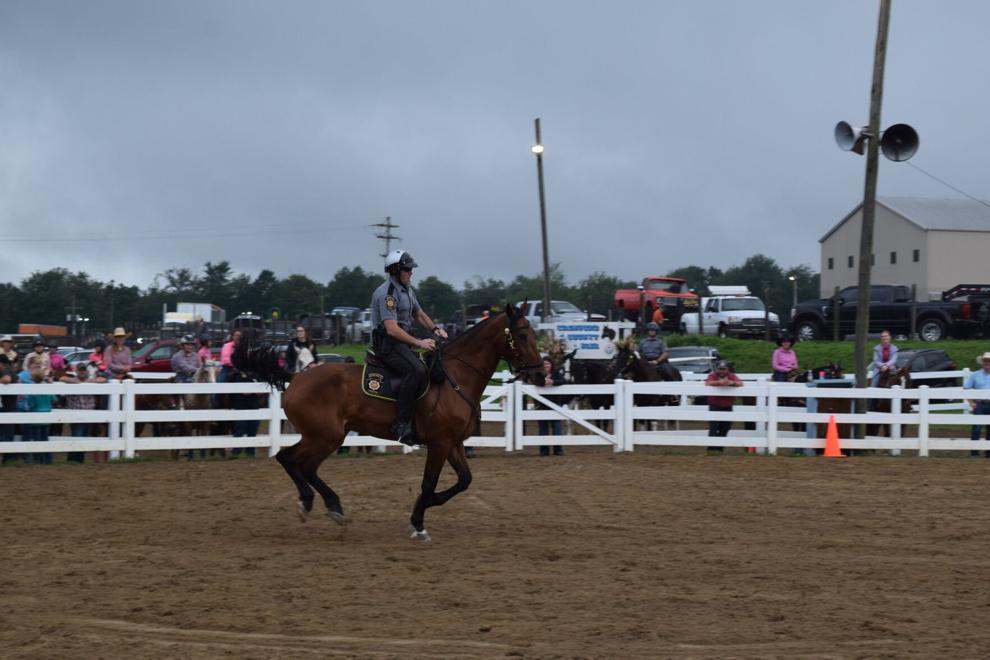 Saturday
My journey was almost complete and was starting to take on a vacation feel.
I stayed the night with my uncle's family and wrote my Crawford story first thing in the morning.
Afterward, I tagged along to see my younger cousins participate in a color run. Adults tossed colored powder on the kids as they headed up the hill to the finish.
Plumes that looked like candy-colored bomb blasts wafted over the lake — and toward me, when the kids tore open the color packets they had been given.
I left for home after lunch. This was the longest drive of my trip, over 300 miles, but the GPS stayed stowed. I've known this route by heart for a dozen years.
I can't claim to know the hills and dales of Williamsburg and Westmoreland quite so well, but at least I know them now. I liked what I saw and the people I met, and I realized just how much of this land I have yet to know.
My dreams of having steak every night of the trip were a distant memory, but for dinner on the road I ordered the biggest roast beef sandwich Arby's offers, as well as my third milkshake of the week.
Highest milkfat content in my uncle's fridge: whole milk
Unusually named private lane: H2O Lane, Pleasant Gap