Fieldcrest is facing a long road trip for a nonconference game at Marquette Catholic in Alton at noon Saturday.
The Knights will meet in their locker room at the high school at 6:45 a.m., have team breakfast at 7:15 a.m. with the bus leaving at 7:30 a.m. for the 181-mile, 2 hour, 45-minute trip.
Fieldcrest coach Nick Meyer said the team will stop at the Coalfield rest stop to stretch out before arriving in Alton around 10:45 a.m.
"I think our guys will be ready to play," Meyer said. "Getting them up and moving at the rest stop should get them woken up."
The game is a big one for the Knights (3-4), who need to win their final two games to become playoff eligible.
"They know where we're at in the season and we need to win to keep their season alive," Meyer said. "We told them last week before Fisher that every week from here on out is the playoffs for us and they responded all week at practice and on Friday. So that's the mentality from here on out."
Ball hawks
Entering Friday's game at La Salle-Peru, Ottawa quarterback Colby Mortenson had only thrown four interceptions through the first six games.
The Cavaliers doubled his season total, picking him off four times in the second half to help the Cavs to a 24-19 victory.
Mikey Hartman intercepted two passes, while Danny Beavers and Kaleb Kennedy each had one.
Cutting down on interceptions
St. Bede senior quarterback Max Bray has taken better care of the ball during the Bruins' current three-game winning streak.
Bray threw seven interceptions through the first four games, but doesn't have any in the last three weeks.
"It's just better understanding of the plays," St. Bede coach Jim Eustice said about Bray's improvement.
Through four games, Bray averaged 20.8 passing attempts per game, but has averaged just 8.6 per contest the last three games with no game over 12 attempts.
The Bruins have relied more on the ground game, led by Bray.
Bray has 48 rushing attempts the last two weeks for 372 yards and nine touchdowns. On the season, Bray has 900 yards and 18 TDs on 125 attempts.
Bennett Williams has successful surgery
Princeton senior standout Bennett Williams had a successful knee surgery at the University of Iowa on Friday.
Two hours later, he tuned into the stream of the Tigers' game at Bureau Valley just before kickoff.
He was up on his feet, wearing a shirt that read "From Setback to Comeback."
Williams, an Air Force Academy commit, sustained a season-ending injury in the third quarter of the Tigers' 28-6 Week 5 win over Sterling.
On Saturday morning, from the Stead Family Children's Hospital that overlooks Kinnick Stadium, the Williams family got to watch the University of Iowa band warm up for the Hawkeye's Homecoming game with Purdue.
His mother, Cheryl, said he started physical therapy Monday and is hoping to be at this week's home game with Mendota.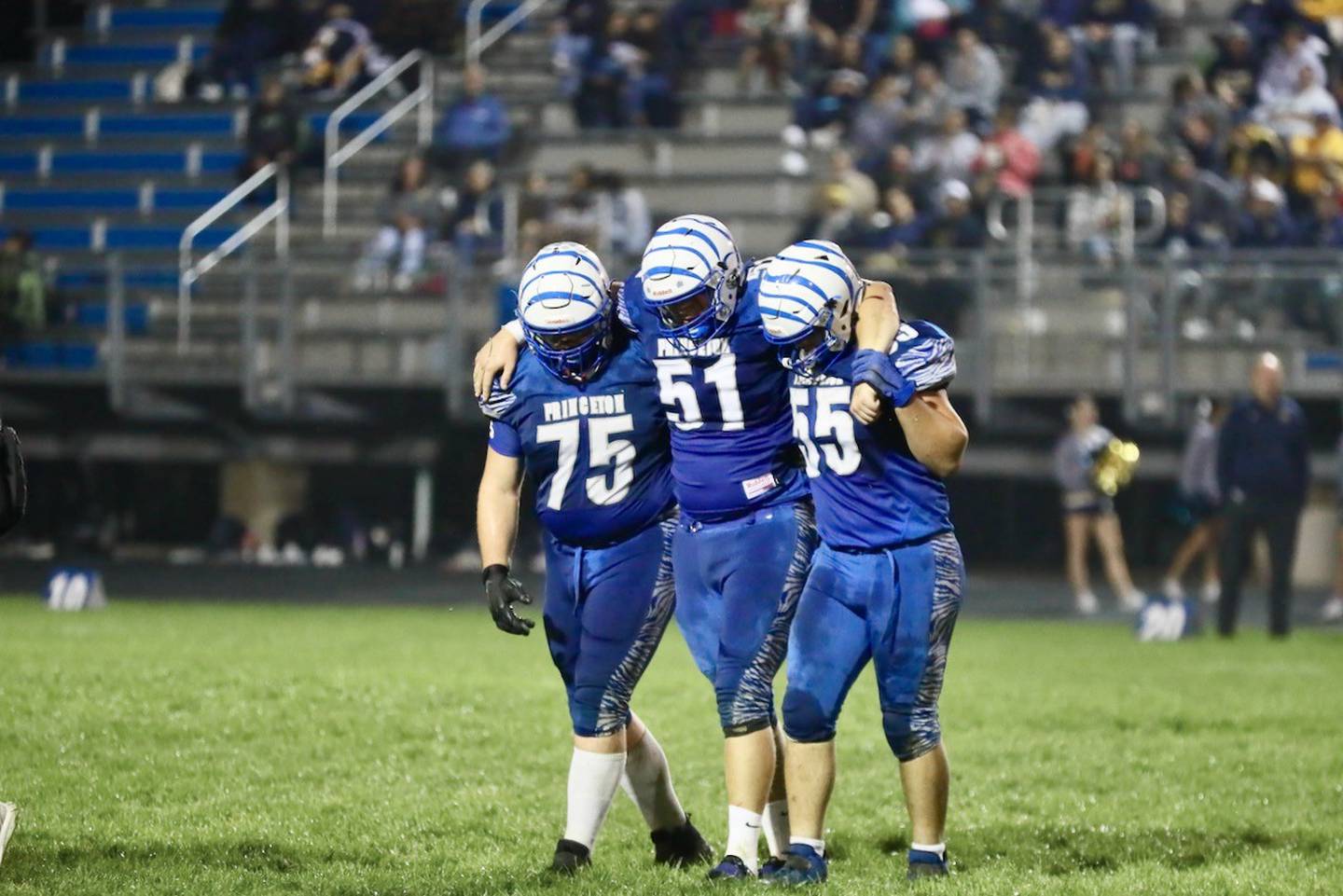 Rivalry ended, rivalry renewed
Friday's game between Princeton and Bureau Valley in Manlius will be the last between the Bureau County rivals for the foreseeable future.
After this school year, Bureau Valley is leaving the Three Rivers Conference for the Lincoln Trail Conference. With Princeton staying in the Three Rivers, which does not nonconference games, there's no opportunity for the Tigers and Storm to play.
Princeton won all five meetings with Bureau Valley, including 42-0 on Friday.
While the Princeton-Bureau Valley series is ending, another local rivalry will be renewed this week when St. Bede travels to Ottawa to face Marquette.
The Bruins and Crusaders last played in 2011 before Marquette left the Big Rivers Conference for the Northeastern Athletic Conference.
For St. Bede coach Jim Eustice, it will be a homecoming. He played quarterback for Marquette, leading the Crusaders to a runner-up finish in Class 3A in 1984. Eustice later served as the head coach for his alma mater, guiding Marquette to a 13-32 record from 2005-09.
Playoff outlook
St. Bede joined Princeton and Amboy as playoff eligible teams with the Bruins' 31-28 victory over Dwight/Gardner-South Wilmington on Friday.
The Bruins (5-2) finish with road games at Marquette (5-2) and Seneca (7-0) in hopes of bettering their playoff seed.
Princeton looks to be a top two seed for the fourth year in a row. The Tigers close with Mendota (1-6) and Hall-Putnam County (3-4).
Amboy can be a top two seed in the Illinois 8 Man Football Association with wins against Orangeville (4-3) and Polo (6-1).
La Salle-Peru is one win shy of playoff eligibility for the fourth straight season after Friday's 24-19 win over Ottawa. The Cavaliers (4-3) must beat either Sycamore (7-0) on the road or Kaneland (4-3) at home.
Hall, Bureau Valley and Fieldcrest all sit at 3-4 and must win their final two games to become eligible for the postseason.
The Red Devils play Rockridge (6-1) and Princeton (6-1), the Storm face Aurora Central Catholic (3-4) and Morrison (6-1) and the Knights close with Alton Marquette (1-6) and LeRoy (7-0).